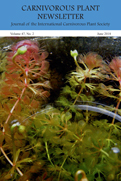 The June 2018 issue of CPN is out now.
The Carnivorous Plant Newsletter (CPN) is the official publication of the International Carnivorous Plant Society. It is published in March, June, September, and December.
Features of CPN include horticultural articles, research papers, field trip reports, conservation news, book and literature reviews, cultivar descriptions, artwork, meeting announcements, and advertisements.
Additional taxonomic features of Pinguicula chilensis — Aymeric Roccia (PDF)
An account of Nepenthes ampullaria Jack — Richard Nunn
An informal population report and observation of phenotypic variance and habitat of the Alabama Canebrake Pitcher Plant Sarracenia alabamensis Case & R.B. Case subsp. alabamensis (Sarraceniaceae) — Noah D. Yawn
Germination rate and longevity of seeds of Aldrovanda vesiculosa and Utricularia vulgaris — Lubomír Adamec
Big Lagoon Bog — Bob Ziemer (PDF)
Those plants won't grow in your climate — James Bowen
New cultivars — Mark Rubnitz and Klaus Ivanez and Richard Nunn and Chiem Nguyen Anh Vu (PDF)
Names of carnivorous plant cultivars registered in 2017; Nomenclatural novelties (sensu ICN) published in Carnivorous Plant Newsletter (2017) (PDF)
12th ICPS Conference (PDF)