Carnivorous Plant Newsletter was conceived in 1970 as an English language, international exchange of information about carnivorous plants. The first issue was in 1972. It started out as a newsletter and morphed over the years into a journal.
CPN has been produced by a series of passionate volunteers for over 50 years. The entire staff is dedicated and works on a volunteer basis. As a result, subscription rates are very low. Usually, special interest societies form and subsequently produce newsletters or journals. But Carnivorous Plant Newsletter has an unusual history and does not fit this mold. The parental organization, the International Carnivorous Plant Society, did not come into being until 1980, the ninth year of the Newsletter's publication. The Society became a non-profit corporation in 2002.
Over those 50 years, a treasure trove of information has been disseminated. All of the articles have been archived and almost all are freely available.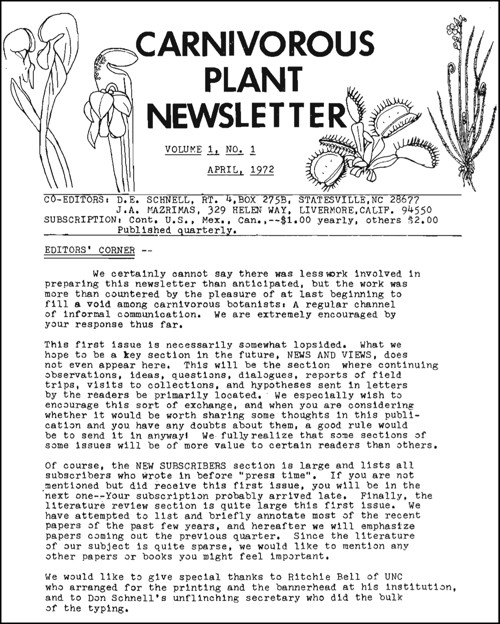 CPN volume 1 number 1 April 1972
The first issue of CPN.