Free copy of December 2019 CPN
Not a member?
The December issue has been mailed to members. Become a new member of the ICPS through January 10, 2020 and get a free printed copy of the December issue of CPN.
The 44 page December issue has articles on Venus flytrap traps, how to grow VFTs indoors, and 4 VFT cultivar descriptions, as well as articles on Drosera, Heliamphora, and conservation. There is even an Ode to the Sundew.
Members also may download PDF versions of all CPN issues since 1972 for personal use on our ClubExpress website or purchase them on a DVD.
(The free printed copy offer is only valid for new memberships. However, if your membership is lapsed more than 6 months, send a nice message to the membership coordinator from our ClubExpress website asking for a free copy after you renew.)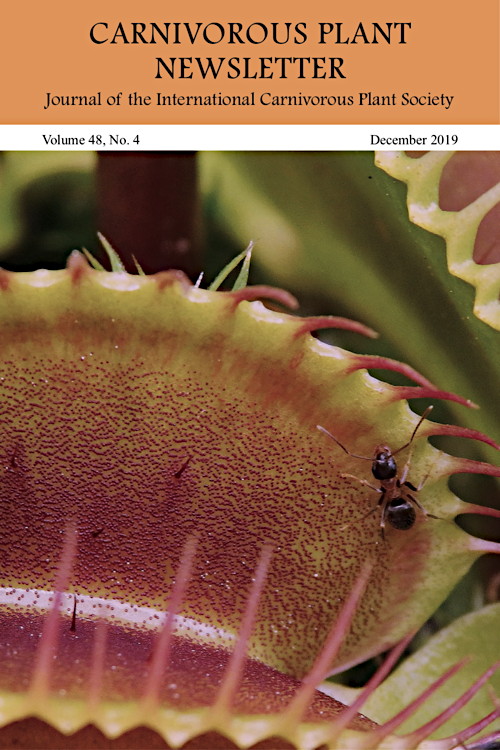 Kenny Coogan: ICPS Education Director
Kenny Coogan started his career by working at two zoos and an aquarium for ten years in the education departments. He is a prolific writer, contributing over 400 printed articles to the magazines Countryside, Hobby Farms, Chickens, Backyard Poultry, and Florida Gardening. Kenny is working on his fourth TED-Ed talk. His TED-Ed video "Why are sloths so slow?" has over 3 million views and his newly published YouTube film "The wild world of carnivorous plants" is approaching 500,000 views. He is a certified middle school science and agriculture teacher. He is entering his second year of his Wipro Science Education Foundation Fellowship at University of South Florida. The fellowship provides science teachers in the Tampa Bay region with the tools they need to become more effective instructors, advance science education curriculum, and achieve greater student success.
Kenny has been keeping carnivorous plants for ten years. Last year he obtained his nursery license and sells carnivorous plants at the area's seasonal plant sales.
His goal as the ICPS Education Director is to create infographics and a book specifically for school age children.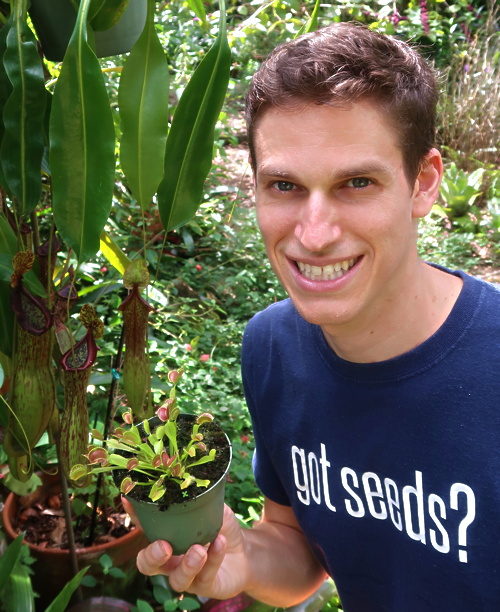 September 2019 CPN
The September 2019 issue of CPN is now out.
The Carnivorous Plant Newsletter (CPN) is the official publication of the International Carnivorous Plant Society. It is published in March, June, September, and December.
Features of CPN include horticultural articles, research papers, field trip reports, conservation news, book and literature reviews, communications from members, cultivar and species descriptions, and meeting announcements.
Contents of the September 2019 Issue 48:3
ICPS Conference 2020 — Koji Kondo (PDF)
In memory of a mentor — Don Schnell (1936—2019) — Barry Rice
Hybrids of world populations of Aldrovanda vesiculosa — Yoshiaki Katagiri (PDF)
Chemistry and surface micromorphology of the Queensland sundews (Drosera section Prolifera) — Jan Schlauer and Siegfried R. H. Hartmeyer and Irmgard Hartmeyer (PDF)
Book review: Casper, S. Jost. 2019. The Insectivorous Genus Pinguicula (Lentibulariaceae) in the Greater Antilles — Yoannis Dominguez
The Pinguicula benedicta "puzzle" resolved — Jan Schlauer
The portrait of Pinguicula involuta Ruiz & Pavon in the "Flora Peruviana": A botanic detective story — S. Jost Casper and Frank Hellwig
Growing Drosera murfetii — Mark S. Anderson
The Venus flytrap: how commercial nurserymen and plant conservationists might co-operate to preserve wild populations and avoid a federal listing as endangered — Thomas Gibson and Don Waller
The Florida flytrap mystery is solved — Jim Miller
Green Anole drinking nectar from Sarracenia alata — John Brueggen
A note on Drosera seed dispersal — Jason Ksepka
A fascinating realm — Chris Kim
From nature to sculpture: an artist's journey — Pamela Tripp
Review of recent taxonomic literature — Jan Schlauer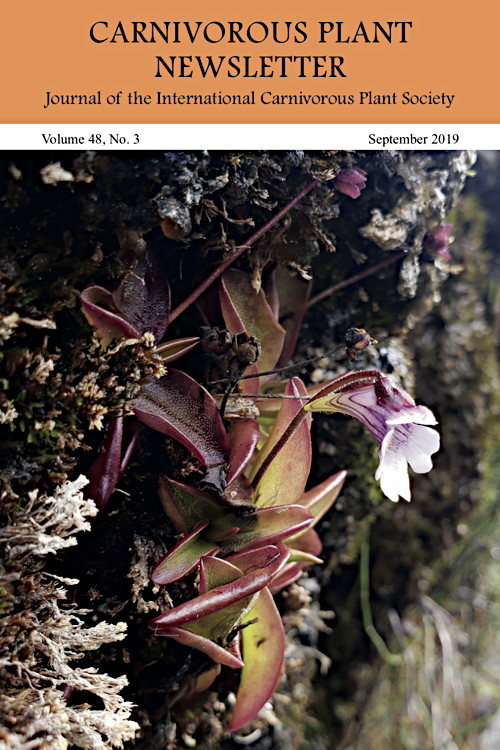 ICPS Conference 2020, Himeji, Japan
13th ICPS Conference
May 22−24, 2020
Himeji, Japan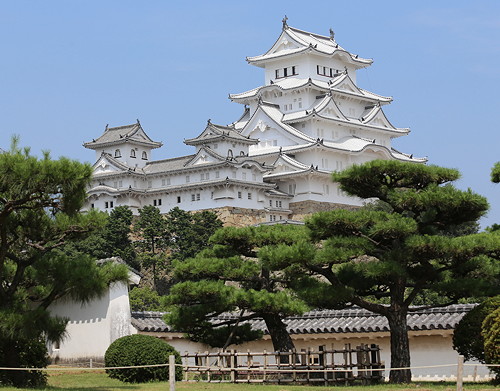 Himeji Castle. Photo © Himeji City.
The ICPS Conference 2020 will be held in Himeji City, Hyogo Prefecture from Friday, May 22 to Sunday, May 24, 2020. The city is renowned for Himeji Castle, a world heritage site that proudly represents the beauty of Japanese castles. Also, there is the Hyogo Prefectural Flower Center in the vicinity (about a 45-minute drive), which has a world-class carnivorous plant collection. Himeji is accessible from Kansai International Airport or from Tokyo by "Shinkansen" bullet train.
The 3-day conference will be held at a conference facility known as "Biz Space," located a 7-minute walk from Himeji Station and within walking distance of several major hotels. The lectures will cover a wide range of topics such as scientific/academic research, horticulture, conservation, etc.
We are planning to bring in English-Japanese interpreters so that more Japanese members can participate in the conference.
Plant displays and sales booths, including a Japanese top-class CP nursery, will be available in the same building during the conference.
The conference banquet is to be held on May 23 at a near-by restaurant, where you can enjoy a good mix of Japanese and Western cuisines together with an impressive nighttime view of Himeji Castle.
On May 25, we are planning a special day trip to the Hyogo Prefectural Flower Center. We will be guided through the amazing collections of Nepenthes, Sarracenia, and other carnivorous plants in the spectacular carnivorous plant greenhouse as well as the backyard. You will be meeting the giant N. clipeata and N. pervillei that were introduced in the 2018 ICPS conference.
On May 26, we will enjoy an excursion to see the local habitats of Drosera rotundifolia, D. tokaiensis, and D. lunata, and maybe a few Utricularia, and then a trip to Tokyo for an overnight stay. On the following day (May 27), we will visit the habitat of Pinguicula ramosa, the Japanese endemic butterwort, on Mt. Nyoho, Nikko City. Note that it might be too early to see the flowers. Details including dates and locations will be finalized shortly.
The 2020 ICPS Conference will be hosted by the three Japanese CP societies: The Japanese Carnivorous Plant Society (JCPS), The Carnivorous Plant Exploration Society (CPES), and The Tokai Carnivorous Plant Society (TCPS). These 3 societies mainly cover the Kanto, Kansai, and Tokai regions, respectively, and have been collaborating with each other and contributing to the prevalence and awareness of carnivorous plants in Japan.
More information on the conference will be posted when it becomes available.
We are looking forward to seeing you in Himeji in May 2020!
-- Koji Kondo on behalf of JCPS/CPES/TCPS Team
June 2019 CPN
The June 2019 issue of CPN is now out.
The Carnivorous Plant Newsletter (CPN) is the official publication of the International Carnivorous Plant Society. It is published in March, June, September, and December.
Features of CPN include horticultural articles, research papers, field trip reports, conservation news, book and literature reviews, communications from members, cultivar and species descriptions, and meeting announcements.
Contents of the June 2019 Issue 48:2
ICPS Board update — Richard Nunn
Field observations of Byblis in Australia — Thilo Krueger
Evidence of motile traps in Byblis — Gregory Allan (PDF)
Nocturnal and diurnal digestive responses in Byblis gigantea, Drosophyllum lusitanicum, and Roridula gorgonias — Gregory Allan (PDF)
Observations and tests on cultivated tropical Byblis — Siegfried R. H. Hartmeyer and Irmgard Hartmeyer (PDF)
Byblis in cultivation in the tropics and in temperate climates — Gregory Allan and Cindy Chiang
Perennial Byblis indoor cultivation — Anthony (Paul) Bell
An amateur's experiences with Byblis germination — Hawken Carlton
New cultivars — Drew Martinez and Bily Guillaume and Thibault Barin (PDF)
Names of carnivorous plant cultivars registered in 2018 — Jan Schlauer (PDF)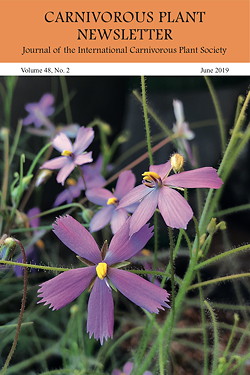 ICPS Board Update
Over the new year, the ICPS Board went through a process of renewal. Our President, Marcel van den Broek, and Treasurer, Ryan Ward, both retired, and we welcomed two new Directors, John Brittnacher as Vice President and Daniela Ribbecke as Treasurer. You may see the new lineup on our Board of Directors and Volunteers page.
As incoming President, I would like to pay tribute to, and thank both Marcel and Ryan for their contributions to the ICPS.
Marcel has served the society as a member of the Board of Directors since 2009, originally as Vice-President and later as President. Over that time Marcel has overseen a number of significant achievements including: firmly establishing our presence on social media platforms such as Facebook, where we now have nearly 11,000 followers; our financial membership numbers have grown to over 1200 after seeing a decline during and immediately after the Global Financial Crisis; and changes to our Conservation agenda seeing funding for international projects, the IUCN-Carnivorous Plant Specialist Group and research projects.
During Ryan's term on the Board he has taken on the difficult task of Treasurer and also moderated our Facebook forum. His enthusiasm and willingness to challenge and generate new ideas and solutions will be missed.
We are indeed fortunate that both Marcel and Ryan will remain connected to the ICPS as volunteers. Volunteers are the lifeblood of our society and we encourage anyone with the passion to get involved.
The ICPS Board is delighted to welcome John Brittnacher back to the Board as Vice President. John has been a driving force within the ICPS for the past 18 years, particularly managing our websites, assisting with CPN, keeping our banking and payments in check, and our document archives updated. Daniela Ribbecke joins us as Treasurer and brings considerable financial experience from her current role at California Carnivores.
One of our longstanding volunteers, Carolyn Becker, is stepping down from the important role of membership coordinator and we would like to convey our thanks and appreciation to Carolyn for her service.
With change comes the opportunity for renewal. I am pleased to announce that the Board overwhelmingly endorsed the creation of two new Director positions: Director Member Services and Director Marketing. Both of these positions are vacant. Anyone who would like to express interest is encouraged to contact us through our contact page.
These new positions have been created to address a number of the priorities and challenges that the ICPS faces over the coming years. During my term as President I would like to see us make progress on:
Greater value and service delivery for our membership
Improved interaction and content on our social media platforms
Building our conservation credentials and facing into the growing poaching problem
Becoming a truly international society
Our mission remains unchanged and continues to guide what we do:
To provide for informational and educational exchanges on all aspects of carnivorous plants, to support horticultural and scientific studies of carnivorous plants, to encourage the cultivation, conservation, and appreciation of carnivorous plants, and to aid in the propagation and dissemination of carnivorous plants.
I am very interested to hear what our members are thinking and would encourage you to give me your ideas and feedback.
-- Richard Nunn
ICPS President