Free copy of September 2020 CPN
Not a member?
The September 2020 issue has been mailed to members. Become a new member of the ICPS through October 15, 2020 and get a free printed copy of the September issue of CPN.
Members also may download PDF versions of all CPN issues since 1972 for personal use on our ClubExpress website or purchase them on a DVD.
(The free printed copy offer is only valid for new memberships. However, if your membership is lapsed more than 6 months, send a nice message to the Membership Coordinator from our ClubExpress website asking for a free copy after you renew.)
Members: There are many countries where we either cannot currently ship CPNs or there will be long delivery delays. The September issue will be available via PDF on ClubExpress and most individual articles can be viewed at cpn.carnivorousplants.org starting in September. If you do not receive your printed issue by October, please contact the Membership Coordinator.
If we run out of extra September issues, this offer may need to be withdrawn early.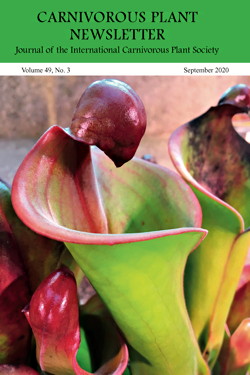 Carnivorous Plant Newsletter of Australia
The International Carnivorous Plant Society is pleased to host an archive of CPNA newsletters.
The Carnivorous Plant Newsletter of Australia was edited and published by Ken and Susan Hatley of West Australia from June 1979 until March 1981. This publication died a natural death in March 1981 due to both a lack of contributions and because the editors opened a large retail nursery in Perth that consumed their time.
Read the issues is in our historic documents section.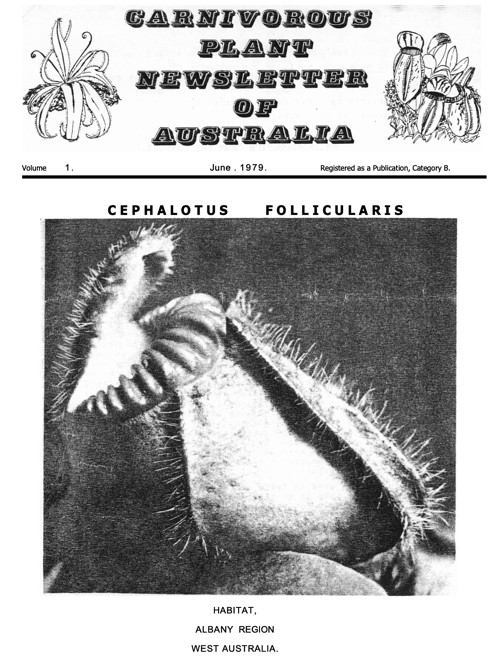 June 2020 CPN
The June 2020 issue of CPN is now out.
The Carnivorous Plant Newsletter (CPN) is the official publication of the International Carnivorous Plant Society. It is published in March, June, September, and December.
Features of CPN include horticultural articles, research papers, field trip reports, conservation news, book and literature reviews, communications from members, cultivar and species descriptions, and meeting announcements.
Contents of the June 2020 Issue 49:2
13th ICPS Conference - Japan: postponed until 2021 — Koji Kondo (PDF)
Preliminary identification of the agent causing the fungal disease of Aldrovanda vesiculosa — Iveta Svobodová and Lubomír Adamec (Abstract | PDF)
Pinguicula antarctica Vahl and/or Pinguicula nahuelbutensis Gluch in the Cordillera de Nahuelbuta, Chile — S. Jost Casper
True vivipary in two remarkable Pinguicula (Lentibulariaceae) from the Caribbean, P. lignicola and P. casabitoana — Paul Temple and Ivan Panco and Cristina M. Panfet Valdéz and Colmar A. Serra (Abstract | PDF)
New cultivars — Brian Lipinski and Craig Heath and Stephen Wang and Mark Rubnitz and Miroslav Srba and Michael King and Laurent Taerwe and Ivan Bogdanov (Abstract | PDF)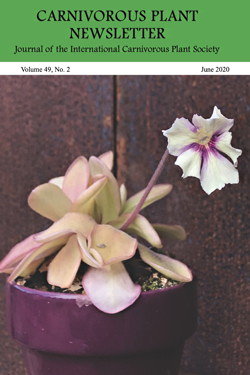 ICPS 2020 Photo Contest Results
Despite our 2020 biennial conference in Japan being delayed due to corona virus, we still held the photo contest. Thank you to everyone who participated. Your enthusiasm and passion for carnivorous plants is inspiring.
Categories included; Portraits of Carnivorous Plants (a single plant or collection), Carnivorous Plants in the Wild (photos taken of plants in their natural habitat) and People and Plants (Wacky or serious photo of carnivorous plants and the people who love them).
Thank you artists Mindy Lighthipe, Jeremy Miklas and TIES director Bertha Vazquez for being our judges this year. Winners received a 1-year membership to ICPS.
Photo contest curated by ICPS Education Director, Kenny Coogan
New Education Section
We have new section on the website for kids activities and other educational resources.
You don't need to be a teacher to use the new mazes, coloring sheets and puzzles for your kids. Download the PDFs, print them out, and give the kids something creative to do.
Also check out ICPS Education Director Kenny Coogan's TEDEd presentation on Carnivorous Plants via the Education Videos link.
Click the "Education" navigation tab above to get started.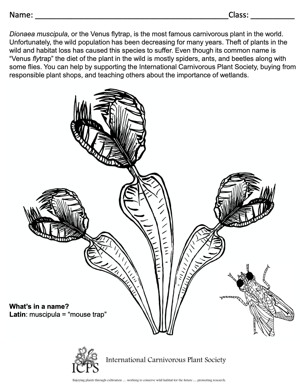 ICPS Conference 2020 Japan Invitation

13TH ICPS CONFERENCE - JAPAN: POSTPONED UNTIL 2021
The 13th ICPS Conference - Japan has been postponed one year because of the COVID-19 pandemic. We now plan to hold the conference in May 2021. However, we may need to reconsider the date depending on future world-wide medical advice.
If the conference can be held in May 2021, the location will be Himeji, Japan, and the program, including the botanic garden tour and the field trips, will be almost the same as planned for 2020. We will try to change the venue from Biz Space to the Himeji Civic Hall, which is within walking distance of Himeji station and is much more appropriate for the international conference. Alternatively, "I-Messae" Auditorium in front of Himeji Castle may be used.
We will keep everyone updated and hope to see many researchers and enthusiasts of carnivorous plants in Himeji, Japan, in May 2021.
KOJI KONDO on behalf of the conference organizer team