Pinguicula alpina is found in the mountain regions of central and northern Europe and northern Asia. It often grows in basic chalky soils near springs, brook banks and moist to wet cliffs. Sometimes it also grows in acidic marshy ground.
The alpine butterwort can be grown in a mixture of one part limestone gravel (0.5 to 4mm) and one part peat or in a mixture of one part peat, two parts perlite, and one part vermiculite.
Pinguicula alpina seeds need cold temperatures from -10°C to 0°C (14°F to 32°F) for 8 to 12 weeks to germinate. CP-growers in regions with cold winters with snow and ice can sow the seed outside in pots on their prefered soil mixture at the beginning of autumn. In spring when temperatures rise and the soil begins to thaw, the seeds need to be protected against mold so place them in a bright sunny location. Normally the seed starts to germinate between March and May. The soil must be always very damp!
For seeds to be started indoors or in a greenhouse, the seed should be stratified in the refrigerator. The method that uses the least space in the refrigerator is to place the seeds in a small plastic bag with a few large pinches of damp peat or crumbled vermiculite. Keep the seed in coldest part of the refrigerator for 8 to 12 weeks.
After the first winter of growing, the plants should be seperated when growing too near to each other. Pinguicula alpina forms winter buds as other cold temperate butterworts. But the plants have to be very carefully seperated because the buds do not loose their roots. The roots are relativly thick yellow-brown in color and very fragile. If too much of the roots break you will loose the plant! Attention: the plant needs cold winter temperatures to survive!
For more information please see:
Mrkvicka, Alexander (1990) European Pinguicula species taxonomy - distribution - cultural conditions. Carniv. Pl. Newslett. 19(1-2):41-43 ( PDF )
Meyers-Rice, Barry (2002) Cold Pinguicula in a Hot Climate. Carniv. Pl. Newslett. 31(1):25-27 ( PDF )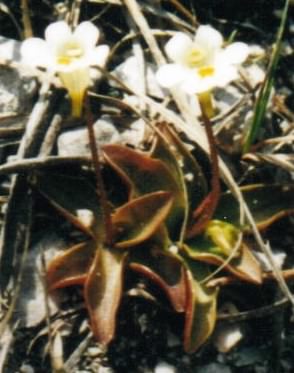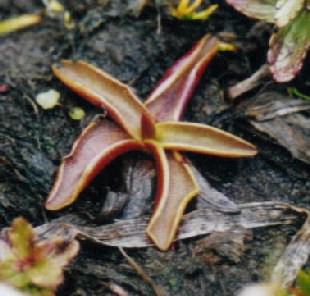 Pinguicula alpina growing in Austria. Photos by Gunter Seiter.